This past Saturday marked the official start of Summer. Are you ready for the challenges and dangers that are associated with the rising temperatures? Especially for those who work outside, there are numerous risks associated with prolonged exposure to heat and the sun. Below you will find resources full summer safety tips to help you and your organization stay safe all summer long!
The Risk of Skin Cancer and Summer Safety Tips
Summer is finally here, which means we should be seeing more of the sun. That's good news – with a caveat. Millions of outdoor workers face serious skin cancer risks from exposure to the sun.
According to the Canadian Skin Cancer Foundation, any workers exposed to solar ultraviolet radiation (UVR) for at least two hours of each working day are considered at risk.
The risk is significant. Skin cancer is the most common form of cancer in the United States. More than 3.5 million skin cancers in more than two million people are diagnosed every year, according to the Skin Cancer Foundation. Also, you should know skin cancer is a disease with a high fatality rate.
 Cost and productivity factors come into play, too. Average melanoma patients lose 28 days from work, according to the Canadian Skin Cancer Foundation. The estimated cost of all skin cancers in Canada in 2004 was $531,750,000 – more than half a billion dollars.
Outdoor construction laborers and oil and gas extraction workers are at a high risk for skin cancer, but due to more immediate injury and fatality risks, the dangers of skin cancer are often ignored, according to the foundation.
The Skin Cancer Foundation recommends that everyone practice monthly head-to-toe self examination of their skin. Skin cancers found and removed early are almost always curable. Go to www.skincancer.org to learn how to conduct a self-exam and what warning signs to look for.
Prevention guidelines
Use a shady spot for lunch and coffee breaks
Wear protective clothing and cover your skin
Wear a hat and sunglasses (not any old cheap pair) – sun is the leading cause of cataracts in older adults
Hardhats can have a flap or extra brim fitted to them
Use an SPF 15 or higher sunscreen before going outdoors
Substances including industrial chemicals such as asphalt and diphenyls increase the harmful effects of UVR.  A water-resistant sunscreen gives protection when there is likely to be skin contact with these substances. Also, certain medications combined with sun exposure can produce skin cancers.
Reapply sunscreen every two hours.
Visit www.skincancer.org for more prevention guidelines.

Watch Now, Free Webinar: Preventing Heat Related Illness
There are numerous dangers that can come as a result of exposure to high temperatures. Coprorate Medical Director Fred Kohanna, MD, MBA, FAOCEM presented an informative webinar that covered everything you need to know about staying safe when the mercury starts to rise! Watch the full webinar right now by clicking here!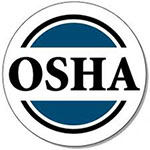 OSHA's Campaign to Prevent Heat-Related Illness
For additional reading on safety tips and general information about hot temperatures refer to OSHA's heat illness campaign. There are many useful resources that will help you follow best practices and keep everyone in your organization safe this summer. Their guide can be found here.