The holiday season is supposed to be a relaxing time meant for spending time with friends and family as a way to reflect back on the year. In reality however, the holidays come filled with stress of all varieties. There are work, family, and friend obligations that all need attention and in the end the holidays can feel more like a burden than a chance to recuperate. Here is AllOne Health's guide to the holidays, with information about the effects of stress and heart health.
How to Handle Holiday Stress
Forty-five percent of Americans would prefer to skip Christmas, according to a survey from Think Finance and reported on NBC News. That should tell you something about our coping mechanisms when it comes to handling holiday stress.
It's a widespread problem. Nearly a quarter of Americans reported feeling "extreme stress" come holiday time, according to a poll by the American Psychological Association. Holiday stress statistics show that up to 69 percent of people are stressed by the feeling of having a "lack of time," 69 percent are stressed by perceiving a "lack of money," and 51 percent are stressed out about the "pressure to give or get gifts."
The stress and anxiety of the holiday season, especially during the months of November and December (and to a lesser extent, just before Valentine's Day) can manifest in symptoms managers need to look out for: headaches, sleep disturbances, fatigue, exhaustion, difficulty concentrating, short temper, upset stomach, low job satisfaction and morale, aching muscles (including lower back pain), loss of appetite, changes in behavior while at work, and a decline in productivity and work performance.
Managers need also to consider the possibility of "presenteeism" on the job—employees who show up for work with hidden ills, such as stress-related mental and physical ailments. They're present at work but are underperforming. With absenteeism, you know when someone doesn't show up for work, but presenteeism isn't always apparent. You often can't tell when, or how much, illness or a medical condition or stress is hindering someone's performance. "Outwardly, you look fine," said one employee who muddled through her days, in an article in the Harvard Business Review. "People don't see how you feel."
But your company can feel it on the bottom line. The impact of presenteeism outweighs the cost of absenteeism perhaps by as much as 400 percent, according to the Australian Institute of Management. A 2008 study by Medibank Private indicated that stress is responsible for a loss of 2.14 days per employee as a result of presenteeism. Most studies confirm that presenteeism is far more costly to employers than illness-related absenteeism or disability, because less time is lost from people staying home than from them showing up but not performing to full capacity. The Journal of the American Medical Association reported that on-the-job productivity loss resulting from depression and pain was approximately three times greater than the absence-related productivity loss attributed to these conditions. The Journal also reported that depression sets U.S. employers back about $35 billion a year in reduced performance at work, and pain conditions such as headaches, back problems (both of which can be stress related) and arthritis cost nearly $47 billion.
During holiday time, stress is ratcheted up by a number of factors: lack of money, shopping decisions and deadlines, parties, strained family relations, pressures to please family and friends and have "the perfect" holiday, and the media bombardment of happy, smiling families and friends enjoying holiday festivities. There's also the increased vulnerability to succumb to recent personal losses—the death of a spouse, child, relative or close friend; a divorce; or the breakup of a relationship. Patients treated by emergency psychiatric services during the holiday season reported that their most common stressors were feelings of loneliness and "being without family," according to a 1991 Canadian study.
What to do?
Managers need to understand the often invisible impact that the holidays can have on stress levels and productivity. Most managers do not believe that productivity is affected by stress, according to a survey by Investors in People, a workplace development group.
Part of becoming aware is listening to your employees and watching out for signs of stress, such as declines in productivity, quality, teamwork, and morale, and a spike in injuries and near-misses. For example, a department head in a small public-service organization sensed an escalating level of tension and deteriorating morale among her staff, the National Institute for Occupational Safety and Health (NIOSH) reported in its publication, "STRESS… at Work" (publication number 99-101). In her department, health symptoms such as headaches seemed to be on the rise. She held a series of all-hands meetings with employees to explore her concerns. Because she was a skilled leader who had the trust and respect of her employees, they were able to freely express their perceptions about the scope and sources of stress and about possible solutions to problems.
At holiday time, you can educate your employees about the effect of the added pressures of the season. They might have stress symptoms or complaints but not realize the source, so you can help by perhaps providing employees with a more flexible schedule during November and December to accommodate the added demands outside the office. In fact, a study by Accenture found that 54 percent of surveyed workers said that flexible hours during the holidays would help reduce stress. Other ways that you can help include counseling employees to power down their smartphones to give themselves some boundaries; relieve neurological fatigue by periodically walking away from their computer screens; listen to their bodies for signs of stress; and recount the benefits of adhering to a regular sleep schedule. It's also important to emphasize eating well, exercising, relaxing, planning ahead, not being too hard on oneself, and not expecting the holidays to come off "perfectly."
One-on-one coaching might be part of your role as a manager. If so, be clear about what's causing your concerns without putting an employee on the defensive by breaking out a list of specific observations with dates and times. Show you care by asking "What can I do to help?" Focus on the issues and not the personality. Intruding on an employee's "private space" can be awkward, and many managers are reluctant to do so, but the alternative might be accidents, injury, or continued deteriorating work performance. And although you're not a mental health specialist, you can point an employee to those professional resources if needed. Your workplace will be healthier, safer and more productive if you get involved and show support—and the holidays will be less stressful for you, too.
Hard Jobs are Hard on the Heart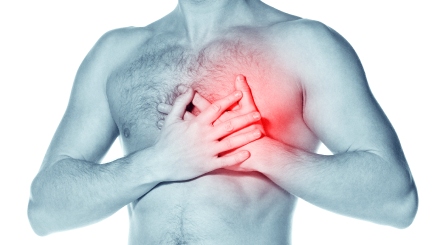 To try to prevent one million heart attacks and strokes by 2017, the U.S. Department of Health and Human Services launched the Million Hearts initiative, promoting proven and effective interventions in communities and clinical settings. In workplace settings, cardiovascular disease can be addressed through a Total Worker Health program, which integrates occupational safety and health protection with health promotion – medical screening and a focus on personal lifestyle factors. A growing body of science supports the effectiveness of Total Worker Health programs at worksites, according to the NIOSH Research Compendium: The NIOSH Total Worker Health Program – seminal research papers, 2012; available at http://www.cdc.gov/niosh/doc/2012-146.
Cardiovascular disease (CVD) accounts for one in three deaths in the United States each year. That fact, in the context of the nation's aging workforce, should have employers considering the merits of employee health promotion and medical screening programs to uncover risk factors of CVD, which include smoking, exposure to second-hand smoke, exposure to particle pollution such as dust, exposure to noise, high blood pressure, high cholesterol levels, obesity, sleep apnea, poor diet, sedentary lifestyle (lack of exercise), work stressors such as tight deadlines and lack of decision-making autonomy, shiftwork, and a family history of CVD.
According to the U.S. Department of Labor, the percentages of manufacturing workers aged 55 to 64 years old and the share of workers older than 65 have both significantly increased since 2000 – the median age of the manufacturing workforce has risen from 40.5 years in 2000 to 44.1 in 2011. In addition, the average age of a high-skilled worker (one having technical training and industry certification, or an associate's or bachelor's degree in a manufacturing-related field) is now 56 years. The average age in construction was 40.4 years in 2008, 4.4 years older than in 1985. More than 40 percent of construction workers are "baby boomers" born between 1946 and 1964, according to The Center for Construction Research and Training.
Here is more food for thought: According to the Harvard Medical College, the Women's Health Study, which included more than 17,000 female health professionals, documented that women whose work is highly stressful have a 40 percent increased risk of heart disease.
The National Institute for Occupational Safety and Health (NIOSH) finds that certain jobs put workers more at risk of heart attack and heart disease. Researchers analyzed data from the National Health Interview Survey for the period 2008-2012 to estimate the prevalence of a history of coronary heart disease or stroke (CHD/stroke) among adults aged 55 or younger by selected characteristics, employment status, occupational category, and industry of employment. Workers employed in service and blue collar occupations were more likely than those in white collar occupations to report a history of CHD/stroke.
More specifically, workers in waste management and remediation services and food service had significantly higher adjusted prevalence ratios for CHD/stroke. Researchers stated, in the study published in the August 1, 2014 issue of Morbidity and Mortality Weekly Report, that these particular jobs are characterized by multiple known CHD/stroke risk factors. For example, workers in waste management and remediation have reported significantly higher levels of job insecurity, a common job stressor, compared to all workers combined. Workers employed in food services have been reported among those who are significantly more likely to work alternate shifts and significantly more likely to smoke. Among adults who were employed, men and current and former smokers were significantly more likely than women and those who had never smoke to report a history of CHD/stroke.
Employers should also take note, with their work populations aging, that the prevalence of CHD/stroke among workers increased in each higher age group.
Researchers said workers in industry groups with lower prevalence of CHD/stroke, such as education services and information technology, might be more likely to have access to preventive services and less likely to be exposed to occupational CHD/stroke risk factors.
Jobs with a higher than average prevalence of a history of coronary heart disease or stroke compared with all employed adults age 55 or younger include wholesale trade, public administration, transportation and warehousing, utilities, manufacturing and construction. Occupations with a lower than average prevalence include healthcare, retail trade, arts and entertainment, and finance and insurance.
Want more information on managing the holiday stress? Check out our additional articles on the topic: