Background and Scope
SARS-CoV-2 is a coronavirus that caused a pneumonia outbreak in Wuhan, China in December 2019.  This outbreak has evolved into a global pandemic.
Risk Assessment
The SARS-CoV-2 public health threat remains high in the U.S. and worldwide COVID-19 case numbers and COVID-19 related deaths continue to rise.  Per WHO, the pandemic is accelerating, and "the world is in a new and dangerous phase."
The United States continues to break records in increases in daily case numbers, and has garnered the highest death toll from COVID-19. International and domestic areas that had previously eased restrictions are experiencing surges in cases, including South Korea, Texas, Arizona, Florida, California, and others.  Some are experiencing shortages in Remdesivir to treat hospitalized patients.  The novel D614G mutation discovered in the G subunit of the SARS-CoV-2 spike protein, one the virus' major virulence factors, is thought have contributed to high level transmission in areas where it has been found, including Italy and the United States.  The WHO has endorsed the possibility of aerosol transmission contributing to outbreaks.  Aerosols are small viral particles, which can travel further and remain suspended for a more prolonged period in the air than large respiratory droplets.
SARS-CoV-2 is thought to have been circulating long before developing into a global pandemic.  Wastewater samples have revealed traces of SARS-CoV-2 as early as December 2019 in Italy, and January 2020, and potentially even March 2019 in Barcelona, Spain.  CDC has acknowledged that there may be as many as 10 undiagnosed cases for every reported COVID-19 case. Serology testing conducted by the agency estimates 20 million Americans, or 6% of the population, have contracted the disease.
COVID-19 has now been found to be transmitted to babies in utero. This was previously not thought to occur.
CDC has issued warnings regarding methanol contamination in commercially available hand sanitizers.  Methanol absorbed through the skin or ingested can cause serious adverse health effects, including blindness, seizures,  and death. Recalled products can be found at the following link.
Terminology                                                                                    
SARS-CoV-2– the name of the coronavirus
COVID-19 ("Coronavirus disease 2019")- the name of the disease SARS-CoV-2 causes
What is a coronavirus?
Coronaviruses are a family of viruses.  Some strains of coronavirus cause mild illness, such as the four responsible for the common cold. Others can lead to severe and even fatal disease.  These include the Middle East Respiratory Syndrome Coronavirus (MERS-CoV), which continues to circulate in some parts of the world, and Severe Acute Respiratory Syndrome (SARS), which is no longer in circulation.  SARS-CoV-2 is a betacoronavirus, like MERS-CoV and SARS, which originate in bats.  The WHO has confirmed that the source of the virus is zoonotic, and not "man-made." This conclusion has been endorsed by U.S. intelligence experts.
Global Case Statistics (7/14/2020)

Source: Johns Hopkins University
U.S. Case Statistics
(7/14/2020)

Source: Johns Hopkins University
Practical Guidance:
Symptoms 
Symptoms of SARS-CoV-2 are typical of pneumonia and include fever, cough, and shortness-of-breath.  CDC has recently expanded the symptom list to include chills, repeated shaking with chills, muscle pain, headache, sore throat, and new loss of taste or smell.  Upper respiratory symptoms (nasal congestion and runny nose), fatigue and gastrointestinal (GI) symptoms, such nausea, constipation and diarrhea can precede sentinel COVID-19 symptoms.  It can take up to 14 days for individuals to develop symptoms of COVID-19 (incubation period).
Most individuals with COVID-19 are mild cases that do not require hospitalization and recover completely (>80%).  Severe COVID-19 is more likely to develop in individuals with underlying medical conditions, such as heart disease, diabetes and lung disease.  It is thought that ~16% of cases may be severe.  Data is insufficient to determine long-lasting effects of COVID-19.  Some individuals have reported symptoms to linger for up to 2 months.  A recent study in the New England Journal of Medicine has found the 3p21.31 gene cluster to be associated with more severe COVID-19 presentation, and posited involvement of the ABO blood type system.  Compared to other subgroups, risk was increased for individuals in the "A" blood type, and there was a protective effect for the "O" subtype.
COVID-19 primarily affects the respiratory tract (lungs), but has also been shown to affect the gastrointestinal system, heart, blood vessels (clotting), kidneys and liver.  Reports of younger middle-aged patients (30 to 40 years old) suffering severe strokes have emerged.  COVID-19 patients are also at risk for blood clots traveling to the lungs (pulmonary emboli).  Neurologic and possible psychiatric complications have also been reported.
COVID-19 has been associated with a unique presentation in pediatric patients referred to as Multi-System Inflammatory Syndrome in Children (MIS-C).  This syndrome is characterized by abdominal pain, fever, rash, and vascular complications appearing several weeks after either symptomatic or asymptomatic COVID-19 infection. Several pediatric deaths have been reported from cardiac complications of this newly described syndrome.  A study in the New England Journal of Medicine found most of the children in the study to have been previously healthy.
CDC has expanded the definition of individuals at high risk of severe disease to younger Americans with underlying illness or health conditions, as well as pregnant women.  Conditions with strong evidence to increase COVID-19 disease severity include:  cardiovascular disease, chronic kidney disease, chronic obstructive pulmonary disease (COPD), obesity, any condition that suppresses the immune system, sickle cell disease, a history of an organ transplant, and Type 2 diabetes.  Other medical conditions that may increase the risk of severe illness include chronic lung diseases, (e.g. moderate to severe asthma and cystic fibrosis), high blood pressure, a weakened immune system, neurologic conditions, (e.g. dementia or history of stroke), liver disease, and pregnancy.
Transmission
Transmission of SARS-CoV-2 is person-to-person.  It is spread from an infected person to close contacts via respiratory droplets expelled with coughing, sneezing, talking and breathing.  There is some evidence that ocular fluid (fluid in the eyes) may also be infectious.  Research has found normal human speech to emit droplets that linger in the air for up to 14 minutes.  It is thought that these lingering particles may be the primary source of person-to-person transmission.   Face masks continue to be instrumental in preventing SARS-COV-2 transmission.
Close contact- defined as 10-15 minutes of exposure, and within 6 feet of distance.
Droplets containing SARS-CoV-2 have been detected in the air for up to three hours.
SARS-CoV-2 can live on hard surfaces, such as stainless steel or plastic, for up to 2-3 days. It is not known whether the virus remains viable for this duration.  This is not thought to be a major route of transmission.  CDC has revised its SARS-CoV-2 transmission guidance to reflect that COVID-19 does not spread easily via routes other than person-to-person, including touching surfaces.
SARS-CoV-2 has not been shown to live on clothing, although CDC has recommended against shaking laundry and clothing of individuals infected with the virus.
Recent study findings are reassuring against fecal-oral transmission. Although it has been present in stool, the virus is thought to be inactivated in the lumen of the colon.
Per CDC there is no evidence to suggest handling or consuming food is associated with COVID-19.
SARS-CoV-2 transmission is occurring via community spread, or between persons for whom the source of exposure is unknown.  Risk is thought to be higher in cramped, indoor areas with poor circulation than outdoors.  A recent study in Japan (non-peer reviewed) found COVID-19 transmission to be 18.7% higher in a closed (indoor) than open-air environment.
A recent European CDC study rates the risk of human infection with SARS-CoV-2 via HVAC ventilation system-transmitted aerosols to be very low.  HVAC systems (including air conditioning units) are thought to securely filter large droplets containing SARS-CoV-2.  However, it is thought possible that recirculated air via stand-alone HVAC systems or air conditioning units may spread COVID-19 aerosols (small droplets and droplet nuclei).  Regularly changing and cleaning HVAC filters in recommended to reduce this possibility.
Individuals are most contagious from 48 hours before symptoms occur, and remain contagious while infected.  Individuals can spread COVID-19 even if they are not exhibiting symptoms.  This may be due to individuals inaccurately gauging the presence of symptoms, true "asymptomatic spread," where individuals appear to be healthy, or "pre-symptomatic" spread during the 48 hours prior to symptom onset.  The majority of transmission results from  individuals who are symptomatic or pre-symptomatic.
The virus has been detected in animals, but there is insufficient evidence whether animals serve as an intermediate reservoir for infection, and/or have the ability to infect humans.  The U.S. Department of Agriculture does not currently recommend routine testing of animals. Per the CDC, the risk of animals spreading COVID-19 to people is considered to be low, although people are thought to have the capability to spread the virus to animals.
Symptoms and Transmission FAQs
How contagious is SARS-COV-2?
"R-naught," or "Ro" is a term that describes how easily a virus is transmitted from one source to another.  The higher the Ro value, the more contagious the virus.
SARS-CoV-2 is estimated to have a "Ro" value of ~2-4.  This means that a person with SARS-CoV-2 without implementing any mitigation strategies, will infect ~2-4 susceptible individuals with whom they come into contact.   This compares to other viruses as follows:
| | |
| --- | --- |
| Virus | R-naught (Ro) |
| Measles | 11 – 18 |
| Zika | 3 – 6.6 |
| SARS-CoV-2 | 2 – 4 |
| Ebola | 2 |
The value of "R-naught," or "Ro" is being used in some countries as a fluctuating metric of infection risk.  In this case, lower values correspond to lower risk of infection.
Can SARS-COV-2 be transmitted on packages?
Per the WHO, the likelihood is low that an infected individual can contaminate commercial goods.  The risk is also low that SARS-CoV-2 can be transmitted from a package that has moved, travelled, and been exposed to different conditions and temperature.  A recent study showed SARS-CoV-2 to remain on cardboard for up to 24 hours, but similar to hard surfaces (stainless steel and plastic), it is unclear how much of the virus remains viable.  It has been deemed reasonable to utilize a disinfectant wipe on cardboard surfaces as a precaution.
Testing, Prevention and Treatment
Testing Overview
The CDC, commercial labs (e.g. LabCorp, Quest), and some healthcare systems have developed laboratory test kits to test patient specimens for SARS-CoV-2.  To date, there are 80 tests that have received "Emergency Use Authorization" (EUA) from the Food and Drug Administration (FDA). False negatives and false positives do occur with both types of tests, and due to limited availability, many have restrictions on who can have them performed.  Both possibilities are concerning due the potential for increased transmission.  An individual with a "false negative" result may continue to unknowingly spread the virus, particularly if asymptomatic, and a "false positive" result can lead to false reassurance that an individual is developing immunity to COVID-19, even though susceptibility to the virus is actually unchanged.
There are a number of other COVID-19 tests in development and moving through EUA protocols.  Some tests are available commercially that have not received EUA by the FDA.  These have not been vetted through FDA protocols, and are likely to produce unreliable results.  The list of tests that have received EUA can be found at the following URL (on the FDA website).  This information is updated, and can be used for reference to "cross-check" tests that you encounter commercially:  https://www.fda.gov/medical-devices/emergency-situations-medical-devices/emergency-use-authorizations#covid19ivd.
Two types of COVID-19 tests have received emergency use authorization: molecular tests and serology (blood) tests.
Testing for active COVID-19 infection (molecular testing)
The COVID-19 molecular assay tests a nasal or throat swab or saliva for pieces of viral genome (RNA).  This indicates active viral replication, or acute COVID-19 infection. Abbott Labs offers a rapid molecular point-of-care COVID-19 test called ID-now.  This test uses existing PCR technology, and also results in 15 minutes.  A recent study found false negative rates for this test to be as high as 48%, depending on sample type.  There is new technology close to FDA approval that uses "CRISPR" capabilities to recognize COVID-19 DNA, and is almost 100% accurate. This will be available only as an in-lab test.
On May 8th the FDA gave Emergency Use Authorization to novel testing technology that detects the COVID-19 antigen.  This test is called the Sofia 2 SARS Antigen test, and is produced by the Quidel Corporation.  It results in as little as 15 minutes, and can be performed in a lab or at the point-of-care by trained personnel under a CLIA certificate of waiver.  "CLIA" stands for Clinical Laboratory Improvement Amendments (promulgated in 1988). CLIA waived tests can be run in non-laboratory patient care settings, such as an on-site clinic.
LabCorp and Quest Labs are currently offering COVID-19 tests that can be performed by individuals at home.  At home tests can be obtained by the individual or physician order.  Individuals requesting tests must fill out an on-line questionnaire, and if "qualified" receive a test kit, perform a nasal swab, and send the kit back to the lab. A COVID-19 saliva test developed by a lab at Rutgers University has also received EUA to be performed at home.  Previously it was approved for lab use only.  This test requires a physician order, and can be run only at the Rutgers University Lab.
Many healthcare facilities have created "drive-by" COVID-19 molecular testing stations located outside of the healthcare facility.  These are designed to reduce transmission of the virus during the testing process.  Criteria for COVID-19 testing may differ by state.  Check your state public health department website for local guidance.
Testing for previous COVID-19 exposure (serology testing)
The COVID-19 serology assay tests human blood for COVID-19 antibodies, which signify evidence of previous COVID-19 exposure, and possible current immunity. Antibody testing is always performed utilizing blood, and there are no point-of-care approved technologies at this time. These specimens would all have to be run in a CLIA certified lab.
Immunity has not clearly been established by any scientific studies.  It is unclear whether the presence and number of antibodies indicates whether immunity is present, the strength of the immune response, and how long immunity lasts. Immunity would allow individuals to resume normal daily activities. A recent study demonstrated a decline in SARS-CoV-2 antibodies after only 2-3 months.
Prevention and Treatment
To date, there is no specific antiviral therapy recommended to prevent or treat SARS-CoV-2.  The FDA has neither authorized nor approved any COVID-19 "treatment" for commercial use, and has issued a number of warning letters to products claiming to have preventive, treatment, or curative capabilities.  Social media sites including Facebook and Twitter have enacted COVID-19 misinformation policies to combat the spread of inaccurate information.
Antibiotics are only effective against diseases caused by bacteria.  They are not active against viruses, like SARS-CoV-2, but are sometimes utilized to treat secondary bacterial infections.
Patients with COVID-19 should receive supportive care to relieve symptoms and prevent complications during recovery. This can range from ibuprofen or acetaminophen for fever, to mechanical ventilation for severe respiratory difficulty (severe cases only).  Ibuprofen and other non-steroidal anti-inflammatory drugs have not been contraindicated in treating fever and other COVID-19 symptoms (e.g. muscle aches)
Vaccine development is underway.  The table below details clinical trials for vaccines in progress.  No vaccine has ever been developed for any strain of coronavirus.
Company
Vaccine name, type
Trial status (location)
Inovio
Virus DNA
Phase 1
Sinovac, Wuhan Institute
Inactivated virus
Phase 1

Codagenix, Serum Institute of India (SII)
Live attenuated virus
Pending (anticipated Sept./Oct. 2020)
CanSino Biologics
AD5-nCoV, Nonreplicating Adenovirus
Phase 1.

Approved for use in military in China for 1 year.

University of Oxford
ChAdOx1 nCoV-19, Nonreplicating Adenovirus
Phase 1/2.
Shenzhen Geno-Immune Institute
Nonreplicating Adenovirus
Phase 1/2.
Sanofi Pasteur; Novavax; Clover/GSK; University of Queensland; et. al.
Virus Protein Subunit
Preclinical stage.
Institut Pasteur, et. al.

Replicating viral vector
Preclinical stage.
 Moderna
Virus mRNA
Phase 1/2.
Pfizer
Virus mRNA
Phase 1/2.
Indian Counsel of Medical Research (ICMR)
Inactivated virus- COVAXIN
Aim to launch by Mid-August 2019
Drugs
The anti-viral drug "Remdesivir" against COVID-19 has demonstrated benefit in treating COVID-19.  Gilead, a pharmaceutical company that produces Remdesivir, is ramping up production, and is projected to produce 'several million' courses of this treatment by the end of 2020. It has been granted Emergency Use Authorization by the FDA.  Emerging data has revealed infusion reactions, liver and kidney damage to be notable side effects.  The NIH has recently launched a clinical trial using Remdesivir in combination with Baricitinib, an anti-inflammatory drug used for moderate to severe rheumatoid arthritis.  Infusion of "convalescent plasma" containing SARS-CoV-2 antibodies from individuals who have recovered from COVID-19 has also shown some benefit, particularly in treating critically ill patients.   Its utility in preventing COVID-19 in individuals unexposed to SARS-CoV-2 is under investigation.
The anti-malarial drug "Hydroxychloroquine" has not been promising in treating or preventing COVID-19.  The FDA has removed the Emergency Use Authorization for this medication to be used for COVID-19.  One study found hospitalized patients taking hydroxychloroquine to be twice as likely to die, as well as more likely to develop ventricular arrhythmia.  This risk was compounded with concurrent use of a macrolide antibiotic (e.g. azithromycin). Results from a NIH-funded clinical trial at the University of Minnesota did not find this therapy to be  effective in preventing COVID-19 compared to a placebo. =
The following therapies have also failed to prove clinical therapeutic benefit for COVID-19: zinc, elderberry, silver, turmeric, famotidine Vitamin C, and Vitamin D.
Clinical trials for the following drugs are also underway:
| | | |
| --- | --- | --- |
| Drug class | Drug name | Findings/Status of study |
| Antiviral | EIDD-2801—oral pill. | Clinical trials started. |
| Antiviral | Favipiravir (Avigan) |  First clinical trial  showed some benefit. |
| Antiviral | Remdesivir (inhaled) | Early stage testing |
| Antiviral | Remdesivir plus Baricitinib (Olumiant), a rheumatoid arthritis Janus kinase (JAK) inhibitor. | Trials underway. |
| Antiviral | HIV drug Lopinavir & Ritonavir (Kaletra) with or without Interferon-beta. | Trials underway. |
| Antiviral | Merimepodib | Shown in study pending peer review to reduce SARS-CoV-2 production both alone and in combination with remdesivir. |
| Antihypertensive (blood pressure) | Losartan (angiotensin-converting enzyme-2 receptor blocker). | May block coronavirus entry into cells. |
| Immunosuppressants | Tocilizumab; Sarilumab. | Trials underway. |
| Steroid | Dexamethasone | Preliminary benefit in reducing mortality in hospitalized patients |
| Monoclonal antibody | Lilly/AbCellera/NIAID neutralizing | Phase 1 trial; could receive authorization as early as Sept. 2020 if trials go well. |
Intravenous immunoglobulin (IVIG) and steroids has shown some benefit in treating children and youth with Multi-System Inflammatory Syndrome in Children (MIS-C).
The anti-arthritis drug "Kezvara" has shown some benefit in treating critically ill patients, and trials of nicotine therapy have begun in France.  Trials of Remestemcel-L, a stem cell therapy, have shown treatment to be beneficial in COVID-19 patients with moderate to severe acute respiratory distress syndrome (ARDS).  The postulated mechanism involves countering the immune dysregulation, or "cytokine storm" deemed responsible for the abrupt, late-stage acute respiratory decompensation seen in these patients.
Should I wear a face mask?
New research confirms that face masks continue to be one of the most important means of SARS-CoV-2 prevention.  The CDC has recommended that individuals in the community wear cloth face masks in public places in addition to social distancing measures.  Cloth masks do not replace social distancing, but do provide some added protection against COVID-19 transmission.  This is particularly true in areas where it is difficult to maintain 6 feet of distance, such as pharmacies and grocery stores.  Some states have mandated face coverings in public, and instituted fines to discourage the lack of adherence.
More information and tips for creating your own cloth face mask can be found at the following link: https://www.cdc.gov/coronavirus/2019-ncov/prevent-getting-sick/diy-cloth-face-coverings.html
Preliminary U.S.-based research regarding cloth face masks has revealed non-porous materials to be superior to porous materials in filtering particles.  Filtering is thought to occur via both physical blocking and "electrostatic filtering."  A different study found a polyester bandana to filter 40% of suspended particles, and four-ply-microfiber cloth to filter >75% of particles. An N-95 fitted respirator mask filters 95% of particles by comparison.
Fitted respirators, which include 'P2' or 'N-95' masks, are effective in preventing infection, but require training and special fitting to be used properly.  They are not intended for use in a general setting.  A recent study in Singapore found only 13% of participants provided visual instruction sheet to don an N-95 properly.  Improper use can lead to false reassurance regarding protection, and lead to increased COVID-19 transmission.
There shortage of respirators and other personal protective equipment (PPE) for healthcare workers nationwide.  CDC recommends that surgical masks and respirators (e.g. P2 or N-95 masks) are reserved for healthcare workers at risk for COVID-19 infection.
There has been an increase in N-95 and other respirator masks available on the market, some of which have not received FDA approval or emergency use authorization (EUA).  The list of personal protective equipment that has received emergency use authorization can be found on the FDA website, at the following url: https://www.fda.gov/medical-devices/emergency-situations-medical-devices/emergency-use-authorizations#covid19ivd

Hygiene Practices to Reduce SARS-CoV-2 Transmission
COVID-19 transmission risk can also be reduced by following general precautions for hand hygiene, respiratory hygiene and good food safety practice:
Clean hands frequently, using an alcohol-based hand rub or soap and water. Carry hand sanitizer for use on-the-go.
Avoid touching your face, mouth or eyes.
If you cough or sneeze, cover your mouth and nose with a flexed elbow or tissue. Throw the tissue away immediately and wash your hands.
Avoid close contact with anyone obviously sick (e.g. with runny nose, congestion, muscle aches, fever or cough).
If you develop upper respiratory symptoms, fever, cough and/or difficulty breathing, seek medical care right away. Share previous travel history with your health care provider.
Do not travel if you are sick. Some locations have begun screening travelers, which may cause you to undergo quarantine and testing.
Thoroughly cook all food, including eggs.
Raw meat, milk or animal organs should be handled with care to prevent cross-contamination with uncooked foods, as per good food safety practices
When visiting live markets, avoid direct unprotected contact with live animals, including surfaces in contact with animals
Managing Illness and Return to Work
What should I do if I become sick?
The CDC has expanded the definition of a "COVID-19 case" to include individuals with "presumed COVID-19" on the basis of COVID-19 symptoms alone, in addition to individuals with laboratory-confirmed COVID-19 (or a pending test result).
Presumed COVID-19 is determined on the basis of the following COVID-19 symptoms*:
Fever >100.4 degrees Fahrenheit
Cough that is new or worsened from baseline
Shortness of breath
Chills
Repeated shaking with chills
Headache
Sore throat
New loss of taste or smell
If an individual develops any of the above symptoms, he/she is presumed positive for COVID-19.  Both presumed and lab-confirmed COVID-19 cases are required to self-isolate for minimum of 10 days.
If you become sick, call your health professional to see if COVID-19 testing is warranted.  Call ahead before you go to a doctor's office or emergency room, tell your doctor about your recent travel and symptoms.  Some state health departments have dedicated hotlines to providing testing guidance.
What should I do if I have had close contact with someone with presumed or laboratory-confirmed COVID-19?
Individuals who have had close contact within the last 14 days* with individuals with presumed or lab-confirmed COVID-19 should self-isolate for 14 days.  If this close contact should then develop COVID-19 symptoms, he/she becomes a presumed COVID-19 case.
*"Close contact" is defined as follows:
Within 6 feet of someone for a prolonged period of time (10-15 minutes)
Household member
Intimate partner
Individual providing care in a household without using recommended infection control precautions
Close contact with the COVID-19 case must have occurred within the last 14 days, and during the COVID-19 case's infectious period.  The infectious period starts 2 days (48 hours) before the COVID-19 case develops symptoms, and ends the day COVID-19 case meets return-to-work criteria.
If an individua's last point of close contact occurred before the COVID-19's infectious period, such as 10 days before symptoms developed, the individual is not considered a "close contact."
Source: https://www.cdc.gov/coronavirus/2019-ncov/php/pub­­lic-health-recommendations.html
If I am quarantined, when can I discontinue isolation?
The CDC recommends two strategies to discontinue home isolation for individuals with COVID-19.  The "test-based strategy" requires a negative follow-up COVID-19 test, but the "time-since-illness-onset and time-since-recovery strategy" does not.  CDC prefers the test-based strategy for return to work (RTW) only for healthcare personnel (HCP).
Source: https://www.cdc.gov/coronaviru­­­­­­s/2019-ncov/hcp/disposition-in-home-patients.html
Time-since-illness-onset and time-since-recovery strategy (non-test-based strategy*):
Persons with COVID-19 who have symptoms and were directed to care for themselves at home may discontinue home isolation under the following conditions:
At least 3 days (72 hours) have passed since recovery,defined as resolution of fever without the use of fever-reducing medications and improvement in respiratory symptoms (e.g., cough, shortness of breath); and,
At least 10 days have passed since symptoms first appeared.
Test-based strategy: Previous recommendations for a test-based strategy remain applicable; however, a test-based strategy is contingent on the availability of ample testing supplies and laboratory capacity as well as convenient access to testing. It also requires rapid turnaround time for the test results. For jurisdictions that choose to use a test-based strategy, the recommended protocol has been simplified so that only one nasal swab is needed at every sampling.
Persons who have COVID-19 who have symptoms and were directed to care for themselves at home may discontinue home isolation (RTW) under the following conditions:
Individuals with laboratory-confirmed COVID-19 who have not had any symptoms may discontinue home isolation when at least 10 days have passed since the date of their first positive COVID-19 diagnostic test and have had no subsequent illness.  For 3 days following discontinuation of isolation, these persons should continue to limit contact (stay 6 feet away from others) and limit potential of dispersal of respiratory secretions by wearing a covering for their nose and mouth whenever they are in settings where other people are present. In community settings, this covering may be a barrier mask, such as a bandana, scarf, or cloth mask. The covering does not refer to a medical mask or respirator.
For 3 days following discontinuation of isolation, individuals should continue to limit contact (stay 6 feet away from others), and wear a covering for their nose and mouth when they are in settings where other people are present to limit potential dispersal of respiratory secretions. In community settings, this covering may be a barrier mask, such as a bandana, scarf, or cloth mask. "Covering" does not refer to a medical mask or respirator.
Footnote
*This recommendation will prevent most, but may not prevent all instances of secondary spread.  The risk of transmission after recovery is likely to be substantially less than that during illness.
**All test results should be final before isolation is ended. Testing guidance is based upon limited information and is subject to change as more information becomes available.
What should I do if I have been in contact with a contact of a laboratory-confirmed case of COVID-19 ("contacts of contacts")?
CDC does not recommend testing, symptom monitoring or special management for people exposed to close contacts of people with potential exposures to SARS-CoV-2 (such as in a household), i.e., "contacts of contacts;" these people are not considered exposed to SARS-CoV-2.
What should I do if I have recently returned from traveling?
If you have recently traveled to an international location, stay home for 14 days, monitor your health and practice social distancing:
Take your temperature with a thermometer two times a day and monitor for fever. Also watch for cough or trouble breathing. Use this temperature log   to monitor your temperature.
Stay home and avoid contact with others. Do not go to work or school.
Do not take public transportation, taxis, or ride-shares.
Keep your distance from others (about 6 feet or 2 meters).
Source: https://www.cdc.gov/coronavirus/2019-ncov/travelers/after-travel-precautions.html
Travel Considerations

In the United States, the U.S. Government has advised against any international travel.  They have also restricted travel as follows:
Suspended entry of foreign nationals who have been in:

China within the past 14 days   (effective February 2, 2020)
Iran within the past 14 days (effective February 29, 2020)

Allowed entry of S. citizens, residents and their immediate family members who have been in Hubei Province and other parts of mainland China, but these individuals are subject to health monitoring and possible quarantine for up to 14 days.
Effective at midnight on March 13, 2020, entry into the U.S. for all non-US nationals who have been in the Schengen Area in Europe at any point in the past 14 days will be suspended for 30 days. The countries affected by the Schengen Area restrictions include: Austria, Belgium, Czech Republic, Denmark, Estonia, Finland, France, Germany, Greece, Hungary, Iceland, Italy, Latvia, Liechtenstein, Lithuania, Luxembourg, Malta, the Netherlands, Norway, Poland, Portugal, Slovakia, Slovenia, Spain, Sweden and Switzerland.

Only non-U.S. nationals will be affected. S. nationa­­ls will be allowed to return after "appropriate screening."
The entry ban also does not apply to legal permanent residents of the US, and immediate family members of US citizens.
Travel from the United Kingdom will not be restricted as part of this ban.
A-1, A-2, C-2, C-3, E-1, G-1, G-2, G-3, G-4, NATO-1 through NATO-4, and NATO-6 visas will also be accepted for entry into the US.
President Trump has temporarily suspended immigration to the United States.  Some countries have considered implementing the use of "immunity passports" for return to work or travel in spite of the fact that the presence, strength and duration of antibody immunity is not yet confirmed.  The WHO has published a scientific brief discussing the limitations and challenges of immunity passports.  This can be found on the WHO website, at the following url: https://www.who.int/news-room/commentaries/detail/immunity-passports-in-the-context-of-covid-19
The U.S. Federal government did not renew social distancing guidelines as of May 2020.  Most states continue to have "stay at home" and social distancing restrictions in place, and some recommend a mandatory 14-day quarantine for individuals entering from other states.  Check your local and state government webpages for more information.
CDC recommends that all persons defer any travel on cruise ships, including river cruises, worldwide because of the increased risk of SARS-CoV-2 transmission onboard ships. Four major cruise corporations have suspended their customer operations for 30 days in light of the COVID-19 coronavirus pandemic. Norwegian Cruise Line (NCL), MSC, Carnival Cruise Line (CCL), and Royal Caribbean Cruise Line (RCCL) all followed the announcement with notices on social media that they would be shutting down a vast majority of their voyages until mid-April and later.
Connecticut (CT), New York (NY) and New Jersey (NJ) have issued travel advisories requiring individuals to self-quarantine for 14 days after visiting high-risk COVID-19 states for >24 hours.  Essential workers are exempt from quarantine provided they follow designated protocols.  The list of "high risk COVID-19 states" will be updated on a rolling basis along with fluctuating case counts.  Access the following state-specific website links for up to date and more detailed information.
CT – https://portal.ct.gov/Coronavirus/Covid-19-Knowledge-Base/Travel-In-or-Out-of-CT
NY – https://coronavirus.health.ny.gov/covid-19-travel-advisory
Other states have also imposed restrictions for arriving travelers.  Check your local state government or health department website for the most up-to-date information.
CDC Travel Warnings include the following:
Source: https://wwwnc.cdc.gov/travel/notices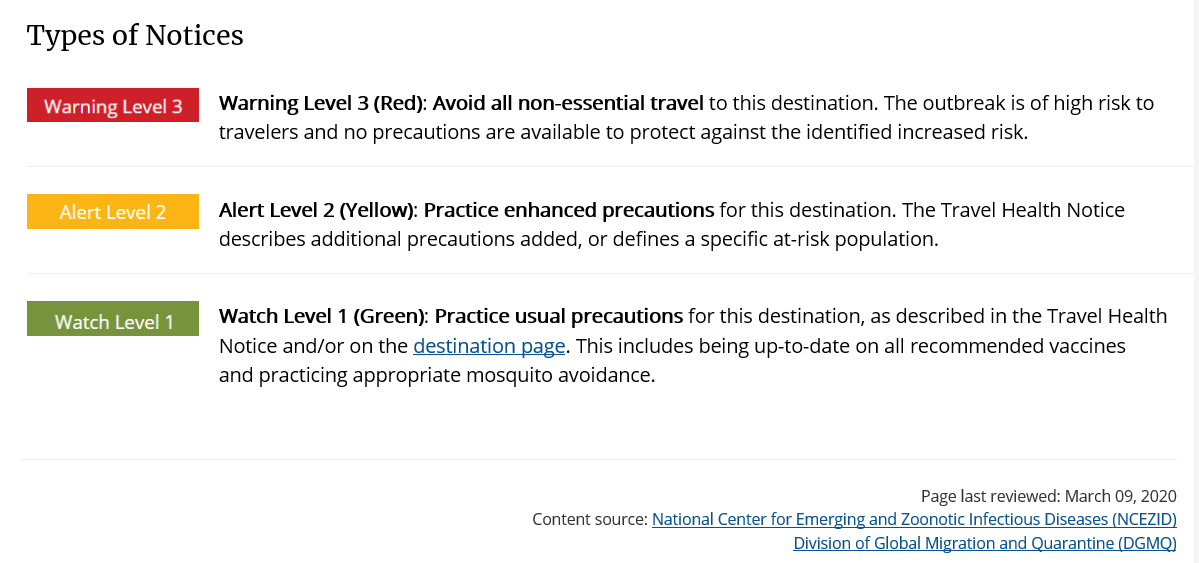 CDC Warning Level 3 (Avoid All Non-Essential Travel) for all international travel locations, and defer all cruise travel worldwide.
U.S. State Department Travel Advisories include the following:
Source: https://travel.state.gov/content/travel/en/traveladvisories/traveladvisories.html/
U.S. State Department Level 4 Travel Advisory (Do Not Travel) countries include all international locations.
Singapore and China have agreed to exempt essential business travelers from a 14 day arrival quarantine requirement COVID-19 PCR testing will be required in lieu of this.  A negative test is required 48 hours prior to travel, as well as upon arrival at the traveler's destination.
Please note – this information is valid as of 7/14/2020. Further updates to this blog will be provided as more information becomes available.