Are you looking to learn more about fit for duty exams? A fit for duty policy can prove crucial for employers in keeping a workforce healthy, and improving the bottom line. To help you answer the questions "what is a fit for duty exam?" and how fit for duty evaluations and policies can benefit your organization, AllOne Health has put together a handy guide.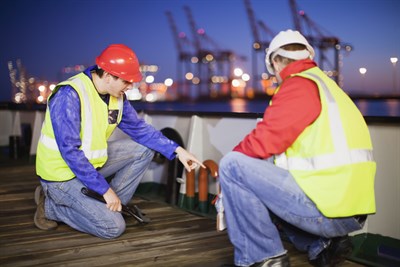 Are Your Employees Fit and Safe for their Jobs?
We're referring to four types of employees in your workforce – 1) your new hires ; 2) your existing workers assigned to new tasks; 3) workers who exhibit observed behavioral and/or psycho-social changes; and 4) existing workers returning to work after being impaired by an injury or illness.
Historically, higher injury rates occur among newer employees. More than 40 percent of work-related injuries annually come from employees on the job less than a year, according to the U.S. Bureau of Labor Statistics.
Some new employees get hurt early on because they are young, inexperienced and may have never worked before — so they don't recognize their workplace hazards. According to a recent study by the National Institute for Occupational Safety and Health (NIOSH) employees under the age of 24 are two times more likely to be injured on the job than those over 25.
Then there are your workers assigned to new positions. They have the experience, but does it carry value after transitioning to new responsibilities? Are they fit to take on new safety challenges?
What of your workers returning to your workplace after recuperating from an injury or illness? Are they fit and ready to go back to their old jobs? Some companies eager to get employees off workers' compensation or injury/illness case logs might rush the process along too quickly.
And what if a supervisor reports concerns about an employee after observing a sudden and rather dramatic change in their behavior and work habits, perhaps even in their appearance and demeanor? How do you determine if that employee is fit for duty?
High- risk environments
These questions are even more pertinent when your business involves high risks, such as oil and gas extraction and processing, hazardous spill cleanup, construction, trucking and other modes of transportation, high-noise worksites, electrical generation and power transmission, and exposure to toxic, even carcinogenic substances such as asbestos, benzene or vinyl chloride.
The cost factor
Of course you want to keep your people out of harm's way. Plus there is a cost factor. The National Safety Council estimates that the lost-time associated with the average injury costs nearly $30,000. According to the 2013 Liberty Mutual Workplace Safety Index, the most disabling injuries and illnesses in 2011 amounted to $55.4 billion in direct U.S. workers' compensation costs. This translates into more than a billion dollars spent by businesses each week on the most disabling injuries.
The value of testing & exams
To make sure you have the right people in the right job, pre-placement medical exams are critical. This is also mandated for certain jobs and exposures by the Occupational Safety and Health Administration (OSHA). The term "pre-placement" is key. It is illegal to give medical exams to job candidates. Only after they are on your payroll, and you are ready to place them in selected positions, does medical screening come into play.
New employees aside, medical surveillance (exams and testing) also mitigates risk factors for 1) employees transferring to new, potentially dangerous work or work requiring different physical capabilities; 2) impaired or disabled employees returning to the job; 3) and employees whose behavior on the job or changes in their attendance, attentiveness, or quality of work has aroused concerns with observant supervisors.
Challenges & solutions
Determining the right tests for these workers and caring for them is often complicated and challenging. OSHA's mandatory tests must be considered. So too Department of Transportation (DOT) exams and testing. Potential legal issues can exist with laws such as the Americans with Disabilities Act, the Family and Medical Leave Act, state workers' compensation laws, and drug and alcohol testing.
Logistics (who conducts the exams and testing and where), recordkeeping (tracking tested and evaluated employees), documentation (for compliance and liability protection), controlling the costs of medical surveillance, and selecting surveillance providers (objective, trustworthy, credible and easily accessible) are additional pre-placement screening considerations.
Do you have the resources in-house to handle these issues? The knowledgeable staff, the technology, the administrative functions, ready access to screening services providers? Your organization's senior leaders might not want to carry the cost of these competencies and capabilities, which are not core to the company's business.
But outsourcing to a patchwork quilt of screening providers can make a complicated issue more complex. Your goal with pre-placement screening is consistency and standardization. You want to eliminate the redundancies and costs of different facilities or units doing their own thing.
Are your people fit and safe for their jobs? Are you containing costs? In compliance? Avoiding legal and liability issues? Evaluate your options to find the service solution that meets your multiple needs.
Practical Steps for Addressing Fitness for Duty
AllOne Health Corporate Medical Director Fred Kohanna, MD, MBA, FACOEM was featured in the April 2014 issue of Professional Safety. Dr. Kohanna addressed issues relating to fitness-for-duty such as, challenges of an aging workforce, presenteeism, and fit-for-duty policies.
To view the article click here