The following article was a collaboration between AllOne Health Associate Corporate Medical Director Brian Morris MD, JD, MBA, MPH, Michael Lombardi, Director of Health and Safety at Triumvirate, Mike Richter, Director of Health and Safety at Veolia, Tom Baker, Director Environment & Transportation, Industrial Business, Veolia North America, and Mitch Osborne, General Manager for Veolia Environmental Services' Plant in Port Arthur, Texas.
On Thursday, October 23, 2014, New York Physician Craig Spencer, MD developed a fever of 100.3°F.  A week before, Dr. Spencer had returned home from Guinea where he had been treating Ebola patients as a volunteer for Doctors Without Borders (Médecins Sans Frontières).  Dr. Spencer notified NY health authorities of his symptoms.  He was then rushed to Bellevue Hospital Center and placed in isolation.  That same day, he tested positive for the Ebola virus and became New York City's first case of the disease.
The following day, cameramen working on behalf of Britain's Daily Mail newspaper videotaped New York Police Department officers throwing potentially infectious Ebola medical waste from Spencer's apartment into a public trash can.  Later, two of these police officers were observed dumping their personal protective gear and caution tape into a garbage bin on the street.
While police officers may struggle to handle Ebola waste appropriately, many hospitals and other medical facilities feel they are in a similar situation.  The proper disposal of Ebola waste presents a regulatory challenge.  The Centers for Disease Control and Prevention (CDC) have advised hospitals to place Ebola-infected items in leak-proof containers and discard them as they would other biohazards that fall into the category of "regulated medical waste."  This flies in the face of U.S. Department of Transportation (DOT) Regulations which classify Ebola as a Category A agent; Category A material is "a material known or reasonably expected to contain a pathogen, such as Ebola, that is in a form capable of causing permanent disability or life threatening or fatal disease in otherwise healthy humans or animals when exposed to it."  Furthermore, DOT regulations state that transporting Category A items requires special packaging and hazmat training.  CDC spokesman Tom Skinner said the agency was not aware of any packaging that is specifically approved for handling Ebola waste.
The confusion played out recently at Emory University Hospital in Atlanta.  To date, Emory has successfully treated three Ebola patients: two missionaries and Amber Vinson (the Dallas nurse who was infected with Ebola after treating Thomas Eric Duncan, the first person to be diagnosed with the virus in the U.S.).  During its peak, Emory was generating 40 bags of Ebola waste per day.  Emory sent staff to Home Depot to buy as many 32-gallon rubber waste containers with lids that they could get their hands on.  Emory's waste hauler, fearful that they could not legally transport Ebola waste, refused to handle it.  Luckily for Emory, it was able to borrow a large, high-pressure steam autoclave from its university and use that to sterilize the waste prior to its ultimate disposal.  According to the CDC:
Ebola-associated waste that has been appropriately incinerated, autoclaved, or   otherwise inactivated is not infectious, does not pose a health risk, and is not considered to be regulated medical waste or a hazardous material under Federal law.  Therefore, such waste is no longer considered a Category A infectious substance and is not subject to the requirements of the DOT's Hazardous Materials Regulations.
Until recently, hospitals and other medical facilities had to handle Ebola waste as follows:
Onsite inactivation

Ebola-associated waste could be inactivated through the use of appropriate autoclaves.  Note that other methods of inactivation (e.g., chemical inactivation, irradiation) have not been standardized and would need to consider worker safety issues, as well as the potential for triggering other Federal safety regulations.

Onsite incineration

Ebola-associated waste could be incinerated.  The products of incineration (i.e., ash) could be transported and disposed of in accordance with federal (DOT, EPA), state, and local regulations and protocols for hospital waste disposal.
The problem remained, however, that most hospitals and other medical facilities did not have the means to set up an appropriate autoclave which would be dedicated to handling Ebola waste.  Onsite incineration would be even more costly.  "For this reason, it would be very difficult for a hospital to agree to care for Ebola cases – this desperately needs a fix," said Jeffrey Duchin, MD, chair of the Infectious Diseases Society of America's Public Health Committee.
To address this issue, the CDC, the DOT, and hazardous waste management companies have collaborated together.  As a result, the DOT has released a special permit process along with requirements for proper segregation, containment, packaging and removal of this Category A infectious waste.
The DOT has approved the following protocol for a hospital or other medical facility to properly package Category A waste:
While wearing the appropriate personal protective equipment, soft waste or sealed sharp containers are placed into a primary medical waste bag.
Bleach or other virocidal disinfectant is applied to the primary bag to sufficiently     cover the surface of materials contained within the bag.  The bag is then tied securely using at least two wraps with duct tape or two tie-wraps ("zip-ties").
The exterior surface of the primary bag is treated with bleach or other virocidal     disinfectant.
The primary bag is placed into a secondary bag. The secondary bag is then securely tied in the same manner as the primary bag.
The exterior of the secondary bag is treated with bleach or other virocidal disinfectant.
The double-bagged Ebola waste is then placed into a special Category A DOT Waste open-head (UN 1H2) packaging drum not to exceed 55 gallons in capacity.  At a minimum, two inches of absorbent material (e.g., kitty litter, vermiculite) is placed in the bottom of the drum to absorb all free liquids in case of an inner packaging breach.  The drum shall be closed and sealed in accordance with the DOT-specified closure instructions.  The exterior of the drum is then treated with bleach or other virocidal disinfectant.
The drum is moved to a handling area that is separated from areas containing other regulated medical waste.
Optional, though recommended:The drum is then overpacked into a plastic open- head salvage drum (UN 1H2) not to exceed 95 gallons in capacity.  The salvage drum is closed in accordance with the manufacturer's instructions and the lid is secured with duct tape at the interface between the lid and the body of the drum.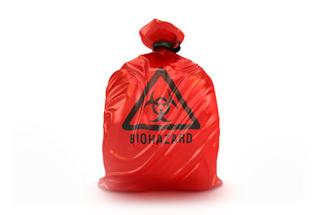 Once the Category A waste has been appropriately packaged and stored, a commercial waste hauler will then transport it to an incinerator capable of handling medical waste.  According to California health officials, there are six states with such incinerators.
Ebola cannot survive temperatures greater than 140 degrees Fahrenheit.  Typically, incinerators reach temperatures of 1200 degrees Fahrenheit.  Therefore, incinerated medical waste (ash) poses no risk of infection to the public.  Under normal circumstances, this incinerated waste would be disposed of in a designated landfill.
Unfortunately, Ebola ash is more problematic than typical medical waste ash for two reasons:
The public has an intense fear of the of the Ebola virus, even its noninfectious, incinerator ash.
The sheer amount of the waste, which could include patients' clothes, their mattresses and scores of protective outfits worn and discarded by medical workers.
The waste from Thomas Eric Duncan's Dallas apartment was packed into 140 55-gallon drums.  The drums were decontaminated and then transported with a police escort to the Veolia Environmental Services Technical Solutions Port Arthur, Texas Treatment Complex.  There, the drums were incinerated; the ashes were collected and segregated.  Michael Richter, Director of Health and Safety for Veolia, stated, "At this time of crisis, Veolia is pleased to provide an essential public health service.
Now, a month later, the Ebola ashes are sitting in limbo at the Veolia incineration facility.  These ashes would normally go into a designated landfill in Louisiana.  However, Louisiana officials are fighting to keep the ashes out of their state.  While the CDC has stated that incinerated Ebola waste poses no danger, Louisiana officials have asked a judge to block Mr. Duncan's waste from entering the state, saying they wanted to determine for themselves that it was not dangerous.
The hazard presented by Ebola waste is real.  Under ideal conditions, the virus can survive on surfaces and remain capable of causing infection for up to six days.  However, rather than give in to public misconceptions, one should focus on the science and take action consistent with sound medical and environmental practices.