The practice of quarantine as we know it began during the 14th century in an effort to protect coastal cities from the Black Death. The Black Death (1346-1353) was one of the most devastating pandemics in human history; it resulted in the deaths of an estimated 75 to 200 million people.  Ships arriving in Venice from infected ports were required to sit at anchor for 40 days before landing. This isolation, called quarantine, was derived from the Italian words quaranta giorni which means 40 days.  Now, over six centuries later, the practice of quarantine is making headlines throughout the world.
Last week, New York physician Craig Spencer returned home from Guinea where he was a volunteer with Doctors Without Borders (Médecins Sans Frontières).  He resumed his normal life which included such activities as riding the New York Subway, eating at a restaurant, and visiting a bowling alley.  On Thursday, October 23, 2014, Dr. Spencer developed a fever of 100.3°F.  Dr. Spencer notified New York health authorities.  He was then rushed to Bellevue Hospital Center and placed in isolation.  That same day, he tested positive for the Ebola virus and became New York City's first case of the disease.
Shortly after Dr. Spencer entered the hospital, governors Andrew Cuomo of New York and Chris Christie of New Jersey announced policies requiring 21-day quarantines for anyone returning from a country with an Ebola outbreak that may have had contact with patients.  The White House and infection control specialists have said those policies are not based on science and will discourage aid workers from volunteering to fight the Ebola outbreak, which has infected about 10,000 people in Liberia, Guinea, and Sierra Leone.
On Friday, October 24, 2014, Nurse Kaci Hickox flew to New Jersey from Sierra Leone where she had spent a month working for Doctors Without Borders helping Ebola victims.  True to his promise, Governor Christie placed Hickox in an isolation tent adjacent to a hospital.  Hickox was asymptomatic and she tested negative for the Ebola virus.  Hickox was flummoxed as to how Christie, who has no medical training, could describe her as "obviously ill."  Hickox told CNN, "This is an extreme that is really unacceptable, and I feel like my basic human rights have been violated."  Hickox hired an attorney.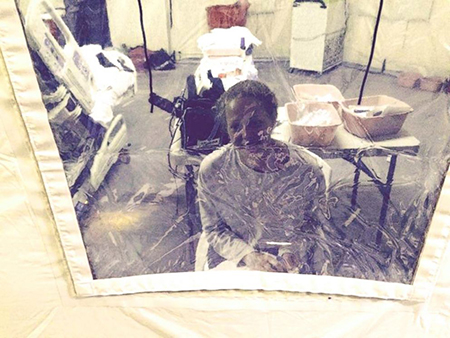 Kari Hickox in quarintine at University Hospital in Newark, NJ
On October 27, 2014, The New Jersey Department of Health issued a statement that Hickox had been "symptom free for the last 24 hours," and that it had decided to discharge her after consulting with the Centers for Disease Control and Prevention. Senior officials in the Christie administration made arrangements for Hickox to be driven in a car to her home in Fort Kent, Maine.  Hickox was escorted by officials from the state of New Jersey and Doctors Without Borders.  The Maine Center for Disease Control and Prevention promptly released its own set of guidelines stating that anyone who had come into direct contact with "Ebola-positive individuals" would require active monitoring and would be quarantined in his/her home.  Through her attorney, Ms. Hickox has indicated that, while she will monitor herself for signs and symptoms of Ebola, she will not submit to an in-home quarantine.
In reaction to the confusion in U.S. cities and towns over how to handle individuals who have potentially been exposed to the Ebola virus, the U.S. Centers for Disease Control and Prevention have created four risk categories and guidelines for how people should be monitored.  The rules apply to healthcare workers returning from fighting the outbreak in West Africa and for anyone in contact with Ebola patients in the United States.
The CDC guidelines sort people into four categories — "high risk," "some risk," "low risk" and "no risk" — based upon their level of exposure to Ebola patients:
High Risk:  People at high risk include health care workers who, for example, have been accidentally exposed to bodily fluids while treating an Ebola patient.  This category also includes family members who have cared for an Ebola patient at home without proper personal protective equipment; this is a common practice in West Africa.  These high-risk people would be told not to use public transportation for 21 days and could be included on a "Do Not Board" list for air travel.  In addition, they would be told not to go to work outside the home.  These people would be allowed to leave their homes to, say, jog in a public park.  However, they would not be permitted to attend "congregate gatherings" such as baseball games.  While it is up to

state and local officials

, many of these individuals will be quarantined at home.  Some may be forced into quarantine at a medical facility.
Some Risk:  People who fall into the category of "some risk" for Ebola, such as healthcare professionals who have worked in an Ebola treatment center in Africa but who consistently wore protective clothing, would be actively monitored by local health officials, with their temperatures taken twice a day.   Local officials would also decide whether to restrict their travel.
Low Risk: Those individuals at "low risk" would include people who have traveled to an Ebola-stricken country but who have had no contact with Ebola patients.  Note that health workers taking care of Ebola patients in the United States would fall into this low-risk category. The guidelines say those people should self-monitor their temperature and symptoms.  Their travel would not be restricted.
No Risk:  As the category implies, these people have no risk so they would need no special monitoring or restrictions.
Note that these new CDC guidelines are not mandatory.  White House press secretary Josh Earnest said, "State and local officials have broad authority to impose quarantine policies in their own states and localities.  The role for the CDC is to marshal scientific evidence."
In Georgia, for example, Governor Nathan Deal said that his state would increase monitoring of inbound travelers from the affected countries.  Passengers showing no symptoms, but deemed high-risk because of known direct exposure to an Ebola patient, would be subject to quarantine at a designated facility.  Doctors Without Borders voiced opposition to Georgia's quarantine orders for asymptomatic healthcare workers, saying these rules "could undermine efforts to curb the epidemic at its source."  The Infectious Diseases Society of America also issued a statement condemning the policies.
Employees planning to return from the three Ebola hot-spot countries of Liberia, Guinea, and Sierra Leone, as well as their employers, should check with local health officials to see what sort of quarantine and monitoring can be expected upon arrival back in the United States.